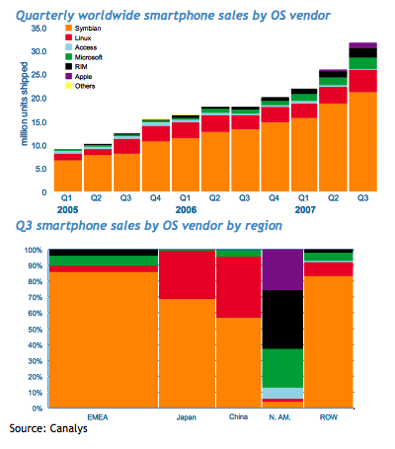 According to
comScore
over 32% iPhone users have downloaded at least one game to their phones. iPhone users differ from random mobile phone users and their user profile is also different but still: gap between 32% and 3,8% (mobile phone users downloaded a game) is huge. Is iPhone the future of mobile gaming and will Apple save developers from porting their games to various mobile platforms?
comScore also shares the following data: 34% of those who downloaded a game in Nov08 used a smart phone. 14% of these are iPhone users. Mobile gaming - especially iPhone gaming - has set up high hopes for the massive growth of mobile gaming revenues. No wonder - the device is cute, it has a big screen, interesting technical features and many iPhone games truly fit well to the casual sector following titles like Bejeweled, Buzz and Zuma.
Still there is room for growth. comScore estimates that 8,5 million per
sons downloaded mobile games in Nov08 (which is 3,8% of all mobile phone users as mentioned already). 8,5 million might sound a lot but if you compare it to MMS and video messaging (28%), receiving SMS advertising (24%), browsing news (18%) or using e-mail on mobile (17%) it is not that high number after all.
Are iPhone games all about casual fun, mazes and puzzles? Do they have some magic power in them? In a situation where close to 1/4 of iTunes applications are games there ought to be good examples to choose from. iTunes provides different lists but at first it is not clear would "New and Noteworthy" be better pick than "What's Hot". New and Noteworthy doesn't have any free games. Moreover Hot, Staff Favourites and similar lists evidently promote chargeable games. Top Free Apps (Finland) top 3 is Towerbloxx, Moving Maze3D and Pole Position. But heyhey - these are the same games that are popular in Facebook!?
It soon becomes clear that a typical iPhone game doesn't utilize iPhone's technical features and that the lists are full of console game brands, advergames and iPhone versions of known titles. On the other hand this evidently is the way to go. There is very limited information available about the games. Many free games have a word "free" on their title and the icon should also give some hint what the game is like -- or not. I decided to download Cube Runner because the icon was interesting and Cube Runner sounds like fun. But wait - I expected to get some further information when clicking the icon but instead the game was just added to the Applications list. Next surprise hit when I opened the game. It wasn't anything I expected it to be based on the icon. Instead it reminds me of one poor 3D game I had on my Sony Ericsson back in 2003. Is this it? Where's the magic?
In the name of reasonableness I have to say that this IS the way things tend to evolve on every new platform. First games are golden oldies from 80s or recycled ideas from hit games available on online portals. Well-known brand help players to choose from the set of icons. On the other hand unique or experimental games can get lost in the mass. Marketing-wise one doesn't get too far with awesome icon design or by placing the game to "games" category. Luckily I happen to know one special and unique game which just passed the sieve of Apple. That game is
Zenbound
(Secret Exit) which truly has magic in it. But when looking at iPhone games in general, I would claim that for the time being the "magic" is largely generated by the device and easy to use Appli store.